Come and see us perform at the Bloomsbury Festival!
5pm on Saturday 23rd October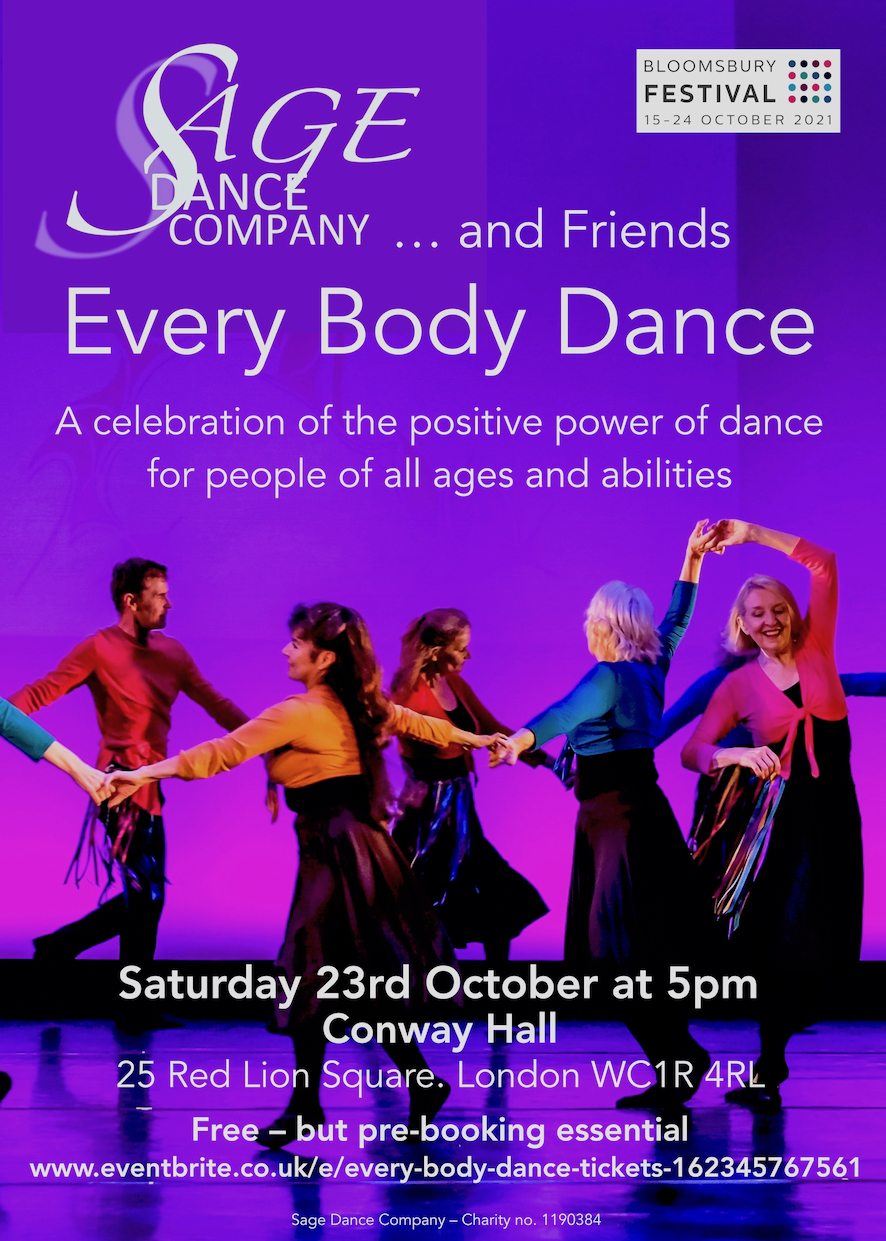 EVERY BODY DANCE
SAGE DANCE, a ballet-based company for the over 55s, proudly presents a programme of different dance styles to celebrate the positive power of dance through the pandemic for people of all ages and abilities.
Alongside new work by SAGE, the company will be joined by four other exciting and innovative performers: the street dance company MANIFEST NATION; contemporary dance company THOMAS PAGE DANCES; dancer/choreographer FIONUALA POWER; and UK's leading dance charity for people with learning disabilities MAGPIE DANCE
Together we aim to show that everybody can dance for life.
'You don't stop dancing because you get old, you get old because you stop dancing!'
Who are we?
– Sage Dance Company was founded in Spring 2010 by choreographer and former First Soloist with the Royal Ballet Company, Simon Rice.
– a unique, community, classical ballet-based dance company for those aged 55 and above
– we have 11 members, both men and women, with a wide and varied experience of ballet and other forms of dance.
Our aims
– to nurture health and well-being by keeping our minds and bodies active through dance
– to keep learning and improving our knowledge, creativity and technique
– to strive to choreograph and create new work that we are proud to perform to a wide audience
– to inspire older people to take up, return to, or keep dancing as late in life as possible.
Would you like to join us?
We're happy to invite people for auditions twice a year in December and July. If you'd like further details please click here to contact us with a brief description of your dance experience.
Sage DC primarily focus on creating new work for performance. The usual performance season is from March-July but can sometimes extend to October. Sage rehearse twice weekly, on Mondays from 4.00-5.30pm in Islington and on Wednesdays from 5-7pm near Chalk Farm. Auditions are informal, involving class and a short participation in rehearsals. If accepted, it is important to show your commitment by attending rehearsals regularly.
There is a three-month probationary period during which dancers can decide whether Sage DC is right for them and vice versa.  Probationary members and current members pay a subscription fee termly in advance.  Please note that support is available in terms of subsidised fees and/or fees spread over a period should it be needed.