NEWS
2018 Performances
Sage Dance Company are excited to announce that on Tuesday April 10th we will be performing  Every Body Dance! Celebrating Lifelong Creativity, at the Arts Educational Theatre in Chiswick. 
Tickets are available here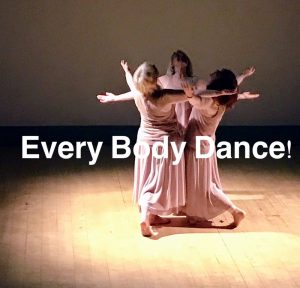 Alongside new and existing works from Sage DC, the programme will feature guest performances by five other exciting and innovative dance companies, Ready Willing Able Dance Company, Arts Educational Schools, SLiDE, Manifest Nation, and Thomas Page Dances
READY WILLING ABLE DANCE COMPANY was established  14 years ago and is supported by East London Dance where they are based.
THOMAS PAGE DANCES is a contemporary dance collective that aims to create thought-provoking work to nurture the creativity and development of young artists, whilst striving to make dance accessible for all. Based in Oxford and London and working on a project-by-project basis, the ever-growing collective consists of artists from the many strands of the contemporary arts industry.
SLiDE is a Croydon based inclusive dance charity that aims to expand the understanding of dance and increase access to the performing arts for all members of the community. SLiDE works with disabled and non-disabled people of all ages and abilities, providing classes and performance projects. Daniel de Mendoza will be performing a solo work.  He has danced with SLiDE for six years and is a valued member of the family with an exceptional talent and passion for dance. 
MANIFEST NATION is B-Better's professional hip-hop dance company, based in Camden and led by T Damien Anyasi, Dance Today's Teacher of the Year 2014.  They have performed at 2012 Olympic Games, Glastonbury, Britain's Got Talent, The Royal Variety Performance, Adidas, CITV, The National Gallery, Move It and many others.
ARTS EDUCATIONAL SCHOOLS – The Arts Ed 6th form offers 16-18 year olds both an excellent academic education and an outstanding performing arts training. In 2015, Arts Educational Day School and Sixth Form won the Independent Schools Association Excellence Award. This was given in recognition of its excellent academic standards, specialist performing arts provision and record numbers of pupils achieving places at universities and conservatoires.
Sage's dance programme will include a brand new ensemble piece, "Gitanes", choreographed by Simon Rice, our Artistic Director, and danced to the wonderfully spirited Pieces Gigtanes from the album Vivaldi and the Baroque Gypsies.
New work by Sage members themselves will also feature alongside more established group pieces from our repertoire including Chase, Pieces of Eight and Zadok.
Together we aim to show that everybody can and certainly should dance for life. Our mantra at Sage is: 'You don't stop dancing because you get old, you get old because you stop dancing!'
Saturday 10th March
Two more important dates!  In the morning Sage will be performing at:
STAGE conference –  to be held at London Bridge, hosted by King's College London's Health and Humanities Society.  The  Society aims to celebrate shared interest in diverse intersections between health and the humanities. This encompasses the medical humanities and the use of arts (performance, visual, literary) in healthcare.  We will be performing to an audience of medical students and healthcare professionals.     
In the evening we will be performing at The Bull Theatre Dance Festival alongside Sadler's Wells Company of Elders, Counterpoint Dance Company, D2D Dance Company, Green Candle Dance Company, Dawka Energi and young students from Susi Earnshaw Theatre School.
Venue: The Bull Theatre, 68 High St, Barnet EN5 5SJ. The show starts at 7pm.
Tickets are available here 
2017 Performances
Bloomsbury Festival, October 21st
On Saturday October 21st,  Sage took part in the Bloomsbury Festival at UCL Hub as part of the festivities centred around The Art and Science of Living Well.
We performed Chase, our Merce Cunningham inspired piece, choreographed by Sage guest choreographer, Fionuala Power, in the South Cloisters, watched over by a well preserved Jeremy Bentham and two lions.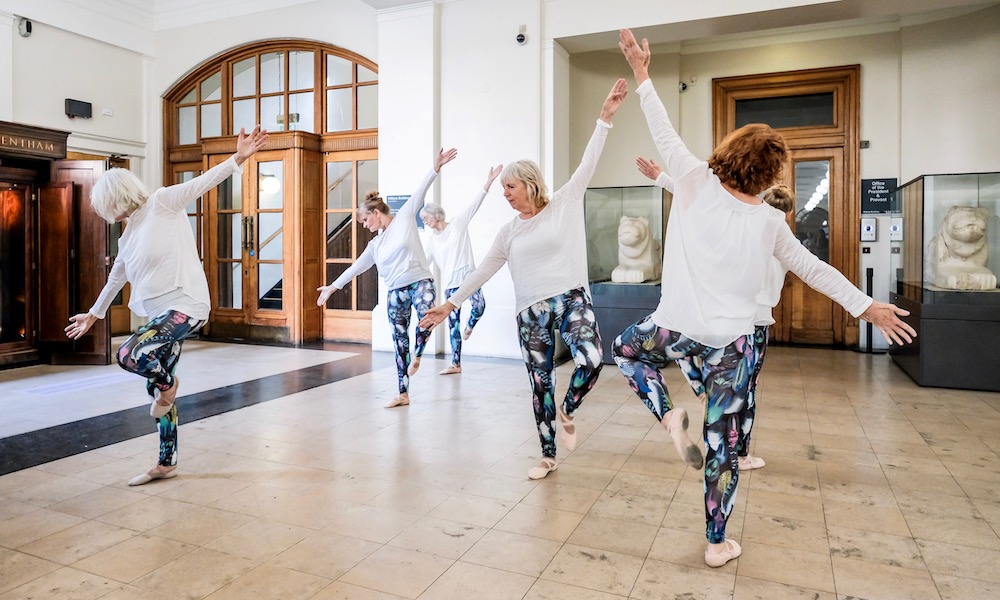 In the Octagon at UCL we performed Trifariam,  a lyrical piece for three dancers choreographed by Sage Dance Company member, Liz Heasman, followed by Friend, a haunting dance/drama duet choreographed by Bren Gosling and Catriona Maccoll, based on a poem written by Bren, who is an award-winning writer.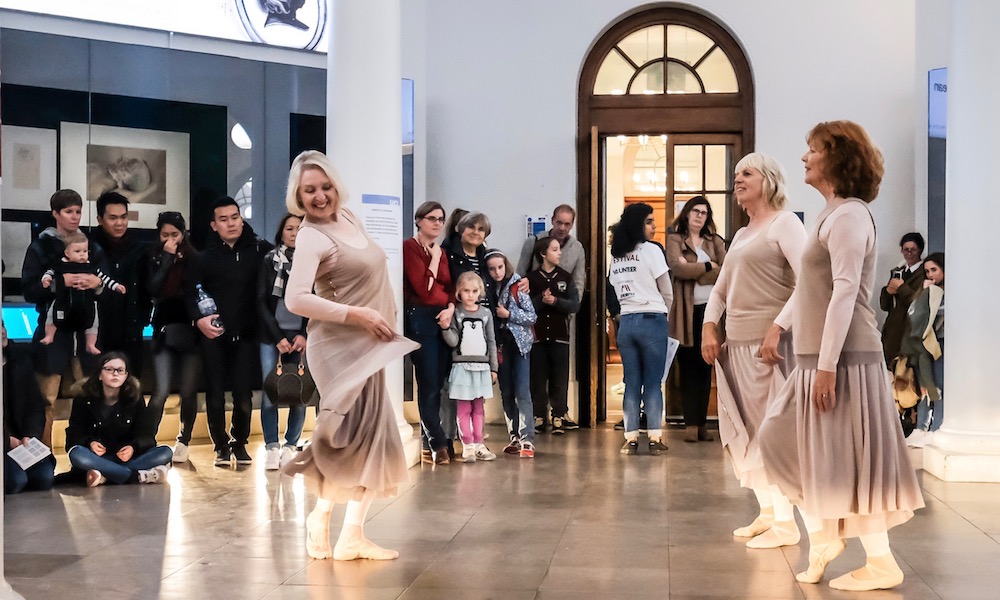 In the Jeremy Bentham Room  two of our dancers performed Another Presence, a new piece of choreography by Fionuala Power, Sage guest choreographer. Also a Merce Cunningham inspired piece, this is a duet featuring Fionuala and Sage member Teresa Thornber-Mann.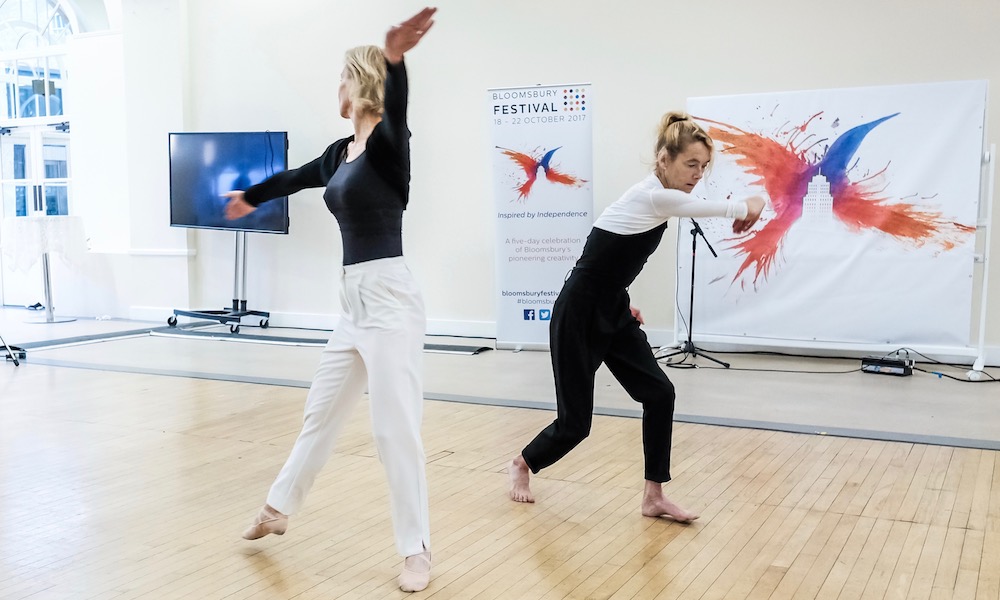 As a finale, the company performed Zadok, choreographed by Simon Rice, in which most members of the company danced.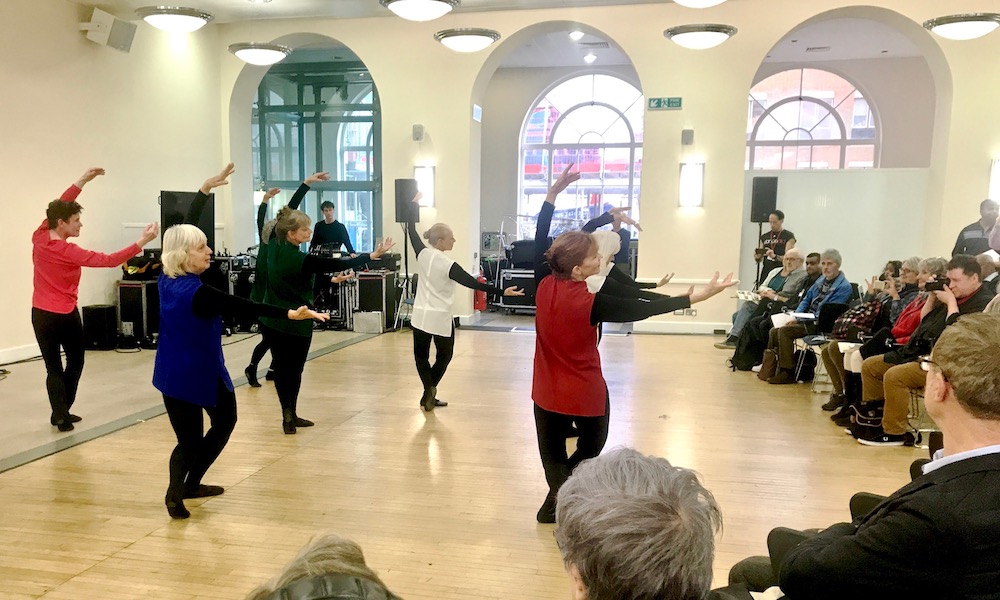 Breathe Arts Programme Guy's and St Thomas's Hospital, October 11th
Sage was invited to perform for a second time this year as part of the Breathe Arts Programme. We performed Chase, Trifariam, Friend and Zadok to a very appreciative audience in the large atrium of Guy's hospital as part of a double bill with Corali Dance Company.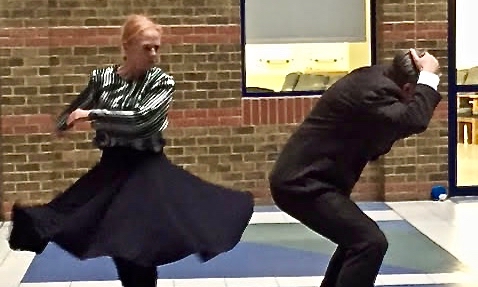 Ignition Dance Festival, Kingston, June 17th
Sage DC was successful in being accepted by Dance West to dance at the Festival and performed Pieces of Eight with nine dancers at the beautiful Rose Theatre in Kingston.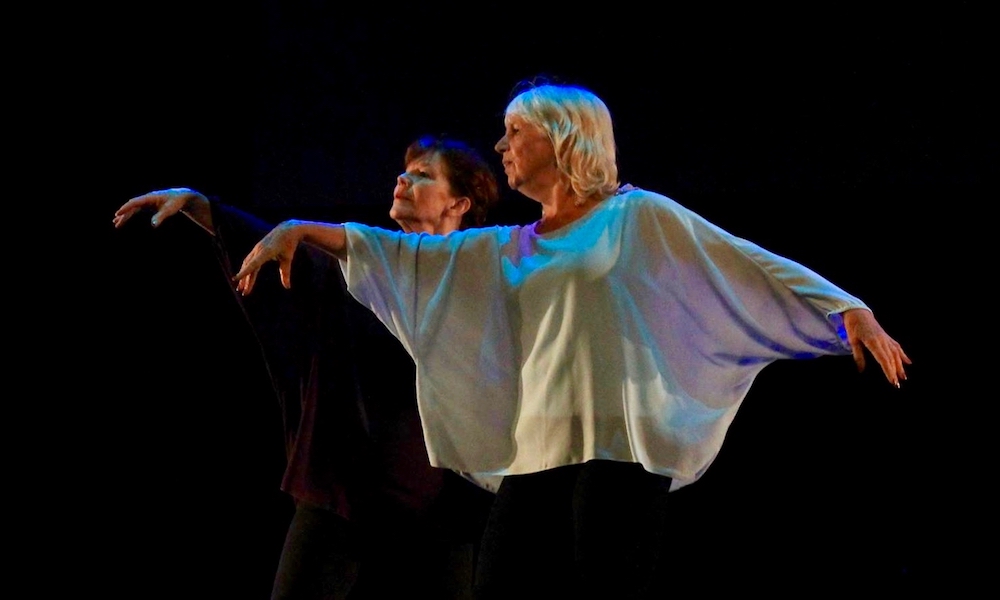 Cubitt Summer Ball, Islington, June 15th
Three of our dancers performed Trifariam, the new piece choreographed by Sage Dance Company member, Liz Heasman, to a large audience at Islington Town Hall.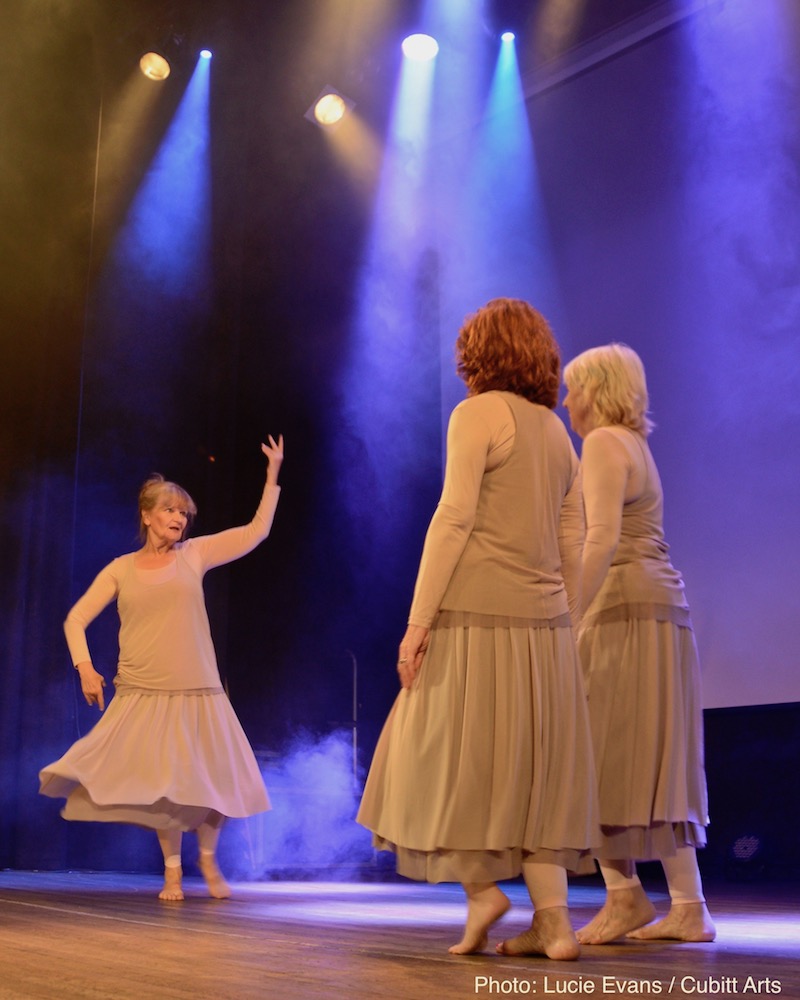 Breathe Arts Programme, Guy's and St Thomas's Hospital, June 13th
As part of the London Creative and Wellbeing Festival, Sage performed Pieces of Eight, Friend and Zadok at Guy's Hospital.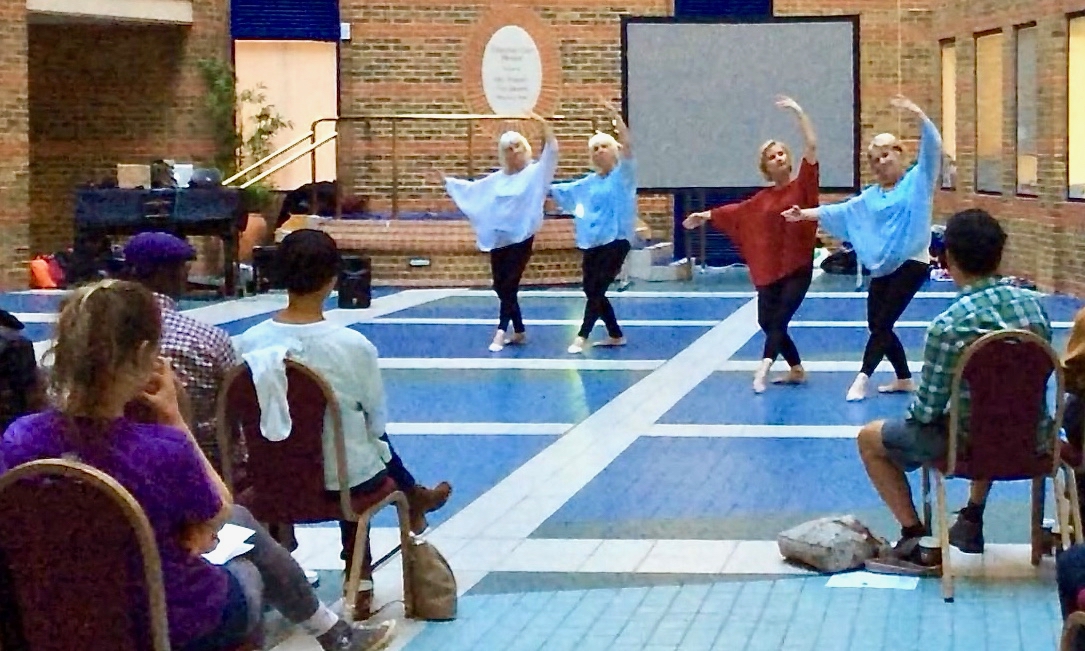 Whiteley Village, Surrey, May 19th
Sage went out to Surrey to perform Trifariam, Pieces of Eight, and Zadok to a receptive audience at Whiteley Village, a wonderful retirement village in the leafy countryside near Walton-on-Thames that featured in national newspapers.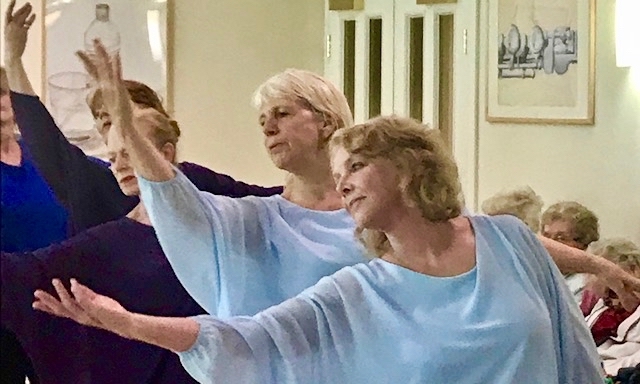 OSO Arts Centre Barnes, March 26th
This was our third sell-out show at this lovely Arts theatre in Barnes. Our company performed Chase, Trifariam, Pieces of Eight and Zadok. Peter Kenny and Sage Dance Company member, Jean Woollard performed prose written by Sage member Bren Gosling, accompanied by the melodic clarinet of Alice Mary Williamson.