NEWS
2017 Performances
Sage Dance Company are preparing for the 2017 season with a performance at RichDance on Saturday 4th March at 2.30pm, part of the annual Richmond upon Thames Music and Arts Festival. They are delighted to have been asked to perform once again in this year's programme, which will showcase a dazzling variety of performances from dance companies and choreographers, professional and emerging dance artists, local schools, and youth and community groups from across London.
Please book tickets via the online booking system or call the box office on 020 8831 6000.
This will be quickly followed by the Rite to Dance, a whole evening of dance and prose at the OSO Arts Centre, Barnes on Saturday 25th March at 8.00pm.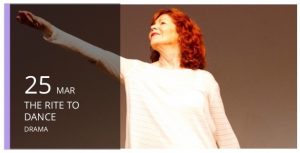 The programme will include a new work to the stirring music of Handel's Zadok the Priest, the completed works of Pieces of Eight, both choreographed by Simon Rice, and an exciting new work created by Sage dancer Liz Heasman.  This sees the continuing progress of Sage dancers in creating their own works, under the expert training and guidance of Simon Rice, with new and varied works in the pipeline for future performances. The evening will also include prose works that have not been performed before, written by one of our dancers who is also a highly-regarded writer, Bren Gosling.
Book online: https://billetto.co.uk/en/events/sage-dance
Here are a few words from choreographer and Sage Director Simon Rice on his new work 'Zadok':
'Nobody writes a better tune than Handel.
'The first section of Zadok the Priest is an iconic piece that promises to climax on numerous occasions but when it finally happens it still feels like exactly the right time!  I envisaged a large group of people all dancing as if by themselves and yet contributing to a well-populated stage. The climax would not be mimicked or replicated by them as it was them. I then felt that the second section should be stationary in nature to give a sense of group order. The third section I imagined to be fluid, complex and continuous, with the group uniting at the end.
This has all come to pass as Sage DC prepare for the first performance of 'Zadok' at the OSO Arts Centre.
It has been a learning curve for the dancers who have contributed vastly to the movement content and have had to adapt to different ways of working with dance material.  At times they have excelled and at other times they have struggled, but overall they have really risen to the challenge. They have realised the joy of being a key part of the creative process and have accepted the added responsibility that this brings. From my perspective, it will be interesting to see how this work evolves in performance. It is a company work on every level and has led the Sage dancers into new territory, but for me, it feels like the right thing at the right time. I feel a sense of occasion, that this can become a signature work for Sage and a statement of intent of their new creativity.'
-Simon Rice
New Company Members
Sage DC are delighted to welcome Jen Kahawatte, Maggy Pigott and Teresa Thornber-Mann.  They have already proved to be very valuable additions to the Company.
Sage Dance Company – on BBC Radio 4!
Falling Tree Production's award-winning documentary by Eleanor McDowall, "A Dancer Dies Twice," is being re-aired tomorrow on BBC Radio 4. It is a fascinating and sensitive look at what happens to dancers when they retire and features interviews with Sage Dance Company members. Well worth a listen! Click on the link below
http://www.bbc.co.uk/programmes/b075pm41
First broadcast on 04 April 2016, this is a wonderful, sensitive documentary on professional dancers and what happens when they retire, whether due to injury or other reasons, and the grieving process they go through.  But the documentary also touched on older dancers who have returned to dance and what it means for them.
As part of the programme, Eleanor attended Sage Dance Company rehearsals and interviewed SDC members Olivia Lousada, Gilly Wesley and Zélide Jeppe.  You can also hear our Director and Choreographer, Simon Rice, taking one of our rehearsals.
(Excerpts from interviews with Sage dancers begin at 21.36 minutes into the programme).
View our News Archive page for past Sage DC events and news.