News Archive
This page lists past Sage DC events and related news.
2016 Performances
More Tales of Dance and Prose
SDC performed for a second sellout evening in 2016 at the OSO Art Centre in Barnes on 28th June.
The performance featured new choreography by Simon Rice, seven of the eight pieces of Pieces of Eight being performed, new Prose works by Bren Gosling and a return for Olivia Lousada's dance work Hidden Twins. Sage DC have been invited back for a third performance at the OSO in the spring of 2017. Sage would like to thank Lisa and her team at the OSO Arts Centre for making the evenings such a pleasurable experience and look forward to teaming up with them again in the near future.
In March Sage DC was fortunate in being selected to perform at RichDance (as part of the Richmond Arts Festival), an annual event which features both young and older dancers, in June at the Cubitt Spring Ball in Islington Town Hall and in July at Oxford House in Bethnal Green as part of their Sagacity celebration.
Sage DC were thrilled to be asked to perform in July as part of Big Dance http://www.bigdance.org.uk/, a biennial festival of people dancing led by the Mayor of London in partnership with People Dancing and the Big Dance Hubs, a network of leading dance organisations across the UK.  The performance took place in front of the Big Bus on Twickenham Green.  It was great fun to perform alongside younger dance groups in front of a huge crowd on a sunny Saturday afternoon.
If you are interested in attending any future performances of Sage DC please join our mailing list by printing your name and email address and any other relevant details in the Contact tab.
New Works
This year marks the first time a member of Sage Dance Company has choreographed a dance work.  Olivia Lousada created a five-minute piece called "Hidden Twins" which debuted at the OSO Arts Centre in Barnes on 10th March 2016 and was shown again at the same venue on 28th June.
Simon Rice, our Dance Director and Choreographer, finished choreographing 'Pieces of Eight', eight inter-connecting dances to the music of Telemann, ranging from the joyous to the more reflective.
Prose writer and Sage member Bren Gosling presented more new works, some of which were performed for the first time. He will also be writing a brand new prose work to be performed as part of a Sage Dance Company evening in the first half of next year.
One of the actors that presented Bren's work at the OSO Arts Centre was our very own Sage member Jean Woollard, an actress who acted and danced in both performances.
News of Members:
Zélide Jeppe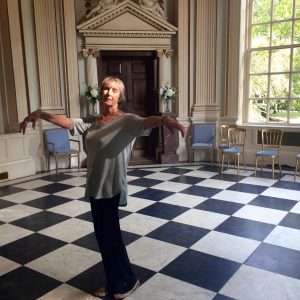 We are immensely sad to announce that long term Sage Dance Company member and trustee, Zelide Jeppe, passed away peacefully on Friday 12th August. Zelide joined Sage DC in September 2010 just six months after its formation. She went on to dance the duet in Kinderszenen with James Grant and the duet in Song of Love with Cecil Rowe. She had a fluid classical quality but due to her versatility was also equally at ease with more contemporary styles, as she demonstrated with her solo in the Merce Cunningham style work, Chase, choreographed by Fionuala Power.
Zelide was also instrumental in the development of Sage DC and, alongside James Grant, initially enabled the company to become better organised on an administrative level. 
As well as her extraordinary gift for dance, Zelide will also be remembered for her charm and unfailing humour, which was always at the ready, and for her warm and helpful nature.
She had a great deal of experience in many facets of dance and was something of a pioneer in dance therapy, as can be seen from her biography which now follows.
Zelide was also instrumental in the development of Sage DC and, alongside James Grant, initially enabled the company to become better organised on an administrative level.
As well as her extraordinary gift for dance, Zelide will also be remembered for her charm and unfailing humour, which was always at the ready, and for her warm and helpful nature.
She had a great deal of experience in many facets of dance and was something of a pioneer in dance therapy, as can be seen from her biography which now follows.
Zelide grew up in India and South Africa and was inspired to dance after watching Ram Gopal perform classical Indian dance.  She trained in classical ballet with Frank Staff in Johannesburg, where she danced alongside Monica Mason. She joined the Royal Ballet School at 14 and danced with the Royal Opera Ballet before going on to work in other dance idioms in London and South Africa. She returned to London's Fortune Theatre in 1964 with the satirical musical revue Wait a Minim. She became a freelance choreographer and dance teacher as well as a dance movement psychotherapist. Her article "Dance Movement and Music in Improvisational Concert," concerning an integrative arts model, which she designed for psychotherapy, is published in the Arts in Psychotherapy journal of 2006.
She will be deeply missed by all at Sage.
Geoff McGarry
Sadly, Geoff passed away on 12th August. He was an original member of Sage Dance Company, starting in April 2010 and performing in the first ever performance of Sage DC at Claremont in Angel, London, the same year. He was a part of the early group, on whom Kinderszenen was choreographed.
Geoff was naturally highly creative and an inspiration to all as he continued to dance well into his 90s, He was enthusiastic and had a lively presence and will be remembered for the joy he expressed whilst dancing which emanated to those watching.
2015 Performances
Sage Dance Company kicked off their 2015 performances by appearing at RichDance Festival 2015 on Saturday 18th April. RichDance takes place at the 450 Hall Theatre in Hampton School as part of an annual festival organised by Richmond Upon Thames' Arts Service.
In recent years this event has marked the beginning of the Sage DC season and has always been most enjoyable. Last year saw 38 groups take part, which included elders groups and a number of talented youth groups from both classical and contemporary backgrounds. Sage DC showed a new short work by Sage DC Director Simon Rice, titled 'Invocation'.
Sage performed at the Islington Town Hall as part of Cubitt Arts Events 2015 on 25 May and also at the Thanet Community Centre in Chalk Farm on 18 May, an annual gathering for the local community elders. They were joined by other performing members including the fledgling talents that frequent the Centre.
Our latest performance was at 'FizzFest' – the Finsbury Arts Festival, where we again performed 'Invocation'.  Our final performance of the summer will be at SagaCity, the annual dance gala held at Oxford House in Bethnal Green.
The Sadler's Wells Elixir Festival 2014
Sage Dance Company were proud to be chosen to take part in the Elixir Festival 2014 at the Lilian Baylis Studio at Sadler's Wells and performed on Sunday evening 14th September 2014 in the 'C' programme.  It was a very exciting evening for us all.
The Elixir Festival took place over four days in September 2014 and  was designed to celebrate lifelong creativity and the legacy of older artists, whose catalogue of work has changed the art form and continues to influence the future of dance. For the main stage performances on 12 & 13 September, choreographers included Sadler's Wells Associate Artists; performers included internationally renowned artists and former dancers returning to the stage after 20 years or more.  Alongside main stage performances, the festival included four mixed programmes for over 60s dance companies, performed in the Lilian Baylis Studio.  The programme represented a diversity of dance styles, whilst ensuring both a cross-regional and international presence.
News of Members, Past Members and Associates
2015:
Liz Heasman
Sage are delighted to welcome Liz to the company.  She started rehearsing with Sage in July 2015 and was confirmed as a member in October.
Jill Raven
Jill had to retire from Sage DC in September 2015 for family reasons.  We miss her greatly and still hope that one day she may be able to return.
Cecil Rowe
Cec was not with us during spring/summer 2015 as he was touring with Maresa Von Stockert's company Tilted Productions.
Carol Mercer
Carol has had to move further away and has therefore been unable to perform with Sage during 2015.  We very much hope that she will be able to join us again soon.
Jean Woollard
Sage are delighted to welcome Jean to the company.  She started rehearsing with Sage in January 2015 and was confirmed as a member in April 2015.
Jess Milne
It is with great sadness that we learned of the death our dear Jess on 16th July 2015.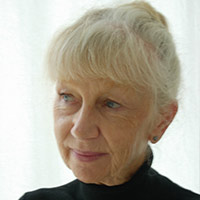 Memories of Jess
When Sage Dance Company formed in 2010, Jess was one of the nine original members. and was a regular performer in the first piece Kinderszenen and also participated in the second piece, Song of Love.
Jess then decided it was time to leave Sage but rejoined last year to be a part of a comic work called ' What are we going to do now?' which was created for a performance at the Islington Town Hall.
Children at play, a song of love and a comic work seem to comfortably describe the essence of Jess, in life, as we knew her.  She was always positive and had a lovely sense of humour and every time I think of her, I can't help but smile.
I often wondered what her secret was, how everyone was so comfortable in her presence but over time realised that she always seemed to be quietly and happily centred. I admit to feeling somewhat beleaguered when she left Sage the first time and sad that she would no longer be with us every week.  It was quite palpable when she returned, everyone was happy to have her back. Shortly after, she said it would not be possible to continue as she had some complications.  She told me very matter of factly and said that it was 'one of those things'.   It was clear that she had communicated in this way for my benefit and was said without fear or remorse, which really typified the quiet strength she exuded.
Now Jess has moved on, I think the world has lost someone very special but somewhere else has gained a very bright, beautiful and loving spirit.  Jess was genuinely loved by us all, will always be in the hearts of those Sages who were fortunate enough to be her companions.  I am very grateful for the times that we shared with her.    Simon
When Jess was around, she somehow lifted my spirits.  She took everything in her stride with such a positive attitude.  She had a delightful sense of humour, and a mischievous streak too!  All these qualities made her an absolute pleasure to dance with.
Last year it looked as if she might be able to join us on the odd occasion and dance with us in pieces specifically tailored to her abilities.  But that was not to be.
It is with much fondness that I recall Jess and with much sadness that I realize I won't have the pleasure of dancing with her again.   Cecil 
Jess was such a delicate and beautiful dancer with a wicked sense of humour.  I think we all loved her unreservedly. Zelide
A delightful dancer. Always full of fun, together with an amazing sense of humour.  A lovely person. Jill
Such a slight but elegant lady – full of fun and a huge personality. We miss her.  Gilly
Jessie was a small and delicate woman but filled a much larger space with her intention and her dance in which she never lost her humour. Olivia
Jess was a delight to know. A feather-light and lovely dancer; an astute and wise lady, who will be greatly missed by Sages who knew and loved her. Judy
Jess lit up my time with her wicked whispers as we waited our turn to dance. I will always remember with joy our chicken dance together – we were in step. Jess was such a warm person, she drew people to her. I feel richer for knowing her. Genia
Jess. Judy, Genia in rehearsal for Kinderszenen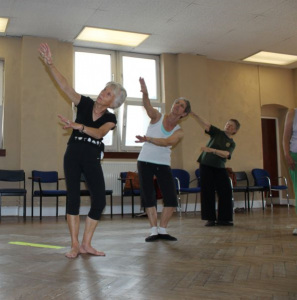 Richard Taylor

Richard Taylor, who made the documentary of Sage Dance Company in 2013, died on 24th February, 2015. He had travelled the world making documentaries for the BBC and formed Orpheus Productions which gave him the independence to film what he wanted. On hearing the news of his death, Sage danced in loving memory and in thanks for the work he had made about us.
2014 member news:
Judy Greengrass & Vivienne Cove
Both Judy and Viv decided to retire from Sage DC in 2014. Both have been with Sage since our first year in 2010. Judy was a regular in 'Kinderszenen' and 'Song of Love' and was significant help with the organising of the Lottery funding within the last year. Viv also danced in 'Kinderszenen' and 'Song of Love' and was our acting Secretary. Both will be missed but we look forward to seeing them from time to time.
Other Past Events
Sagacity 2014
Sage DC are very happy to have been invited to Sagacity 2014 on 11th July 6-8pm at Oxford House in Bethnal Green, London. It is being curated by Fergus Early and his team at Green Candle. It was a wonderful event last year and Sage are looking forward to taking part again.
Day 1: 10th July 10.30am – 4.30pm 'Have a go' and choose between six different 1hr dance and exercise taster sessions in the morning. After a free lunch there will be a fun packed 'Activity Gala' with a variety of activities on offer such as craftwork, massage and table games.
Day 2: 11th July 6.00pm – 8.00pm A Gala performance by London's best and most dynamic older people's community dance groups in the beautiful theatre at Oh!
Sagacity 2014 10th July 10.30am-4.30pm 11th July 6-8pm FREE but booking is required: chantal@greencandledance.com / 0207 739 7722
Oxford House Bethnal Green, Derbyshire St, London, E2 6HG Phone: 020 7739 9001 Map and directions
St Thomas' Hospital
Sage DC have been invited to perform at St Thomas' Hospital on Monday 7th July 2014 as part of their afternoon performances program arranged by Breathe Arts Health Research. The show is from 1-2pm and Sage will part share the bill and perform the full version of 'Chase'.
St Thomas' Hospital 7th July 1-2pm
St Thomas' Hospital Westminster Bridge Rd, London, SE1 7EH Phone: 020 7188 7188 Map and directions
The Capital Age Festival 2014
Sage DC will perform their full version of 'Chase' and their 4 minute version, filmed at the Sir Robert Peel pub, will also be screened. This part of the Capital Age Festival 2014. Meet us at the Albany and joins forces with Entelechy's Tea Dance Team to conjure up an afternoon of dance, tea, cake, music and gentle delights for all ages:
A 21st Century Tea Dance 1st July 1-3pm
Tickets £5 carers and under 5's FREE
Promotions £5 groups + every 6th ticket FREE
The Albany Theatre Douglas Way, London, SE8 4AG Phone: 020 8692 4446 Map and directions
Workshop
On Monday June 16th at Queens Crescent Community Association, a workshop, the last of the Lottery funded workshops, will be taken by Jenny Whittaker. The project has been running for a year and was titled Nurture2Health by James Grant who successfully applied for the funding on behalf of Sage DC. The workshop is open to the users of the QCCA.
Filming
On May 28th, Filmmaker Tony Price filmed Sage performing their 4 minute version of 'Chase' at the Sir Robert Peel pub in Camden. The regulars made the company very welcome and it was a fun evening with many impressed by the Sage dancers dedication, elasticity and healthy demeanour. A big thank you is due to Tom Boylan for all his help and for making the filming possible.
For pictures of the day, click on the Productions page and scroll down to the Gallery.
RichDance Festival
Sage Dance Company will be performing a four-minute excerpt from their new Cunningham style work 'Chase' as part of the RichDance Festival at 2-30pm on Saturday 29th March 2014. This piece has been choreographed by former Royal Ballet Company and Merce Cunningham dancer Fionuala Power. This is what Fionuala says about the work. Chase is a tribute to, and inspired by, the choreographer Merce Cunningham. The piece invites the element of chance as the movement was created independently of the music forming a chase that appears to alternate between the dancers and the music.
More on RichDance
RichDance is the borough of Richmond's annual platform for new dance. Our aim is to make dance accessible to all and to offer performance opportunities to anyone who is excited and inspired by dance.
RichDance has been running since 2002 and celebrates innovative new dance from community groups, schools, emerging choreographers, dance students and professionals alike. Richdance provides support and information for student and graduate dancers and advice for those considering professional dance training.
Our previous programmes have included some of the UK's most prestigious young dance companies and choreographers, including James Wilton, Cathy Waller and Etta Ermini plus support and advice sessions from faculty members of Roehampton University and The Place.
RichDance is taking place on 29-30 March at Hampton School.
Booking
Tickets for RichDance are now on sale. Tickets are priced at £8.50 / £4.50 concessions (4-16 years, students and over 60s. Under 4s go free).
Bookings can be made online or by calling 0208 831 6000.
•    29 March 2.30pm
•    30 March 2.30pm
Where it is…
Hampton School
Hanworth Road
Hampton, Middlesex TW12 3HD, United Kingdom
+44 20 8979 5526
…and how to get there
Bus route R70
Train routes from Waterloo to Hampton (not Hampton Court or Hampton Wick)
Timetables
Stations
For more information on RichDance,
http://www.richmond.gov.uk/richdance
Other links
http://www.pro-activelondon.org/default.asp
Sage Dance Company to perform in the Chelsea Arts Collective (CAC)
Artists involved in upcoming CAC presentations will likely include (on March 29) the visual arts journalist turned kick-ass performer Sarah Kent, going solo but also in tandem with onstage partner Yong Min Cho; the fearless Avatara Ayuso teaming up for the first time with balletic octogenarian erstwhile physicist Alex Fuchsmann (in his performance debut); the flamboyant and classically-trained Kali Chandrasegaram; stand-up and song from Rambert-schooled dancer Ishimwa Muhimanyi; and a darkly lyrical solo from actor-dancer Vanio Papadelli. Meanwhile among those on the docket for April 12 are London-based dance company Corali in a poetically playful and immersive piece centred round dreams, and Simon Rice's troupe of mature ballet dancers Sage.
As a budding but deeply enthusiastic curator Hutera is unapologetic that the CAC programme is still in a state of flux, especially for its final date. 'I'm doing this on a wing and prayer,' he avows, 'and having a great time with it, too, but it's certainly a learning curve. What I'm most struck by, as was the case with GOlive, is how willing and/or needy people are to have their work go public. Artists are hungry for opportunities. It's a reflection of the financially uncertain and restrictive times we're in.  I'm getting a kick out of doing what I can to combat that in as energetic, supportive and transparent a way as possible.'
More on the curators…
Lilia Pegado
CAC's focus is two-fold. Pegado's ongoing visual arts classes adhere pleasurably to the principles of The Quadrangle, a unique and absorbing method of individual and communal art work and thought. (For more information please see www.liliapegado.com ) Alongside this CAC has a series of daringly diverse and engaging live performances up its copious sleeve, curated by the talent-hunting Hutera and spotlighting artists who span generations and genres.
Donald Hutera
Hutera cut his curatorial teeth in a big way last September with the inaugural GOlive Dance and Performance Festival ( giantolive.com ). 'I adored doing GOlive,' he says, 'and am therefore looking forward to both the highlights programme GOlive Extended (May 20-June 7) and the second full-blast Festival that'll happen this coming September. In the meantime there's CAC, something Lilia and I have cooked up as an opportunity for gifted people to share, as it were, their artistic wares. You'll be seeing some of the same artists who were in GOlive but also new discoveries or connections I've made since then. And what happens at CAC may well feed into GOlive.'
One of the key reasons Hutera is tickled about CAC's performance activities, is the pop-up nature of the venue. 'We're using a church hall that puts me in mind of the set for Pina Bausch's Kontakthof, one of my favourite dance-based shows ever. It's got a lovely atmosphere that's both formal and informal: high-ceilinged and a little old-fashioned but at the same time so open and airy.' But what about the bills he's organising? 'The evenings themselves will be a kind of no-pressure cooker of a platform.' he says, 'I want to juxtapose more polished pieces and experienced performers alongside newcomers and work in development. I'm thinking of it, at least in its initial phase, as a rough yet warm, slightly raw, very direct, exceedingly flexible and communally intimate experience. To me it's like a flying-under-the-radar adventure with next to no (or minimal) technical facilities but, ideally, a load of aspiration and pleasurable sensations attached to it. It's something we'll figure out as we go along.'